Seven Works by GIMO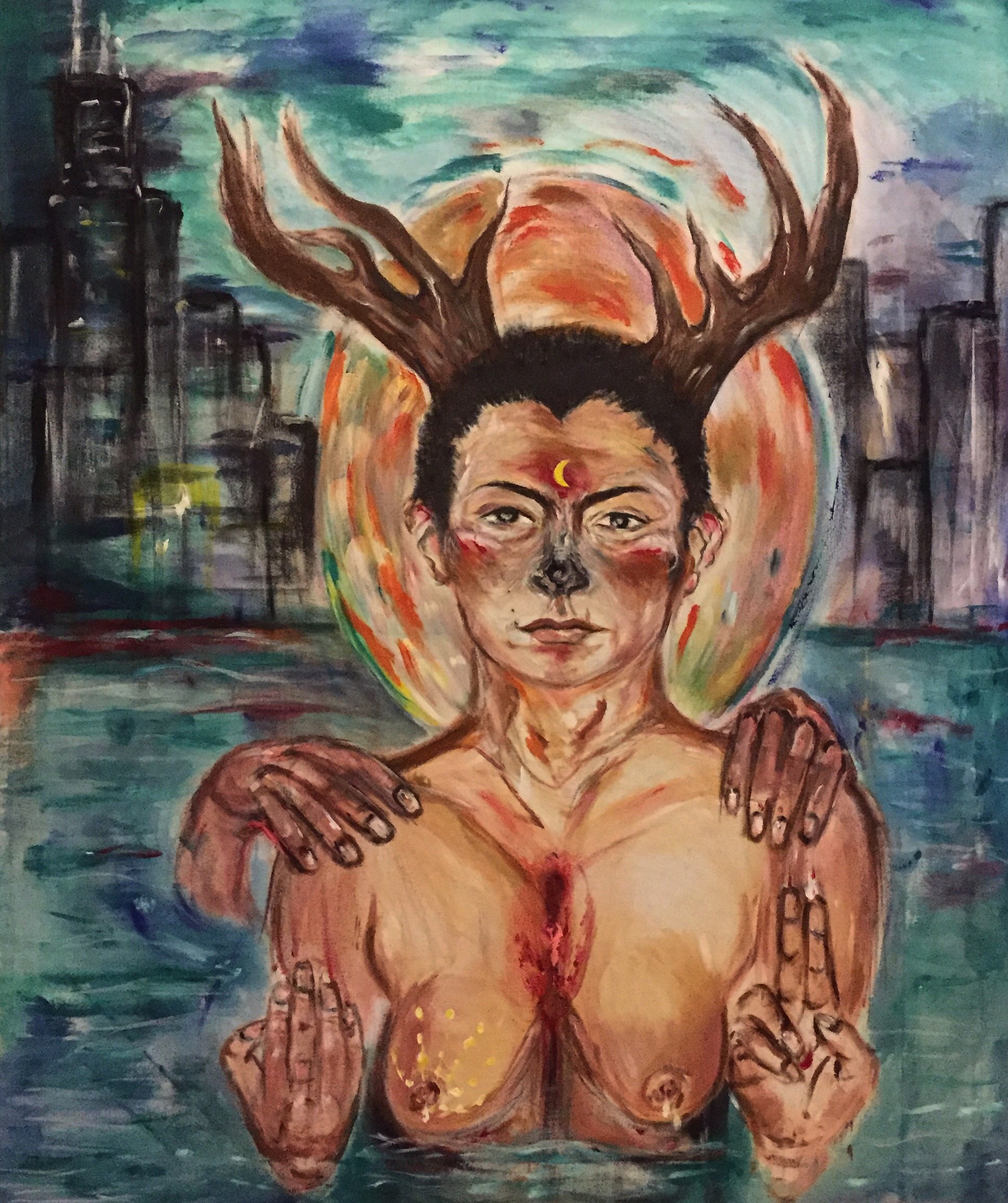 GIMO: Seven Works
GIMO is a visual, multidimensional artist from Chicago, IL currently working out of Pilsen. Their work has been featured in several group exhibitions at Illinois State University, as well as Star Lounge Cafe, The Grind Cafe, and The Dojo.
They've had two solo shows at Bespoke Salon in Kansas City, MO as well as a poetry reading at Uncharted Books in Chicago. They were also featured in the McLean County Arts Center exhibition in Bloomington Normal, IL.
You can find more of their work at www.gimo.cargocollective.com.
A Symposium of Hidden Selves
GIMO has a distinct, expressive voice. They give credence to marginalized identities in a way that most mainstream creators can't articulate.
Their work creates an exclusive language that thrives underneath the mainstream. Motifs like moons, chakras, hearts, and nonverbal communication illustrate the collectivity of GIMO's spirituality.
GIMO uses their cross-disciplinary strength to mesmerize. Their mastery of motifs and symbolism, their juxtaposition and fluidity of mediums, the cohesive characters in their worlds; these works balance a smattering of thoughts into a dialogue of spirituality and identity, all housed under the enigma of GIMO.
A Collective, Vocal Sense of Hope
GIMO's wide array of mediums brings their hidden language to the forefront and transforms it into something wholly accessible. One might be able to see GIMO's work and relate to an identity with which they've never encountered, and still be able to speak their language.
There's a collective, painful wisdom that comes with marginalization, one of fighting an uphill, disjointed battle. GIMO's unique voice finds a common thread that inspires hope.
On the hunt for more artwork from people like you?
Our mission is to showcase painters, sculptors, filmmakers, and artists alike, thus creating the opportunity to work with each other, start a conversation, and meet the community.
See all of our artists or take a look at the awesome painters, illustrators, photographers, sculptors, and ceramicists we've published so far!